Celebrity Summit to Get Solstice-Class Enhancements.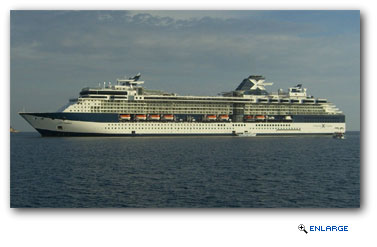 New look. That's what's in store for Celebrity Summit in January 2012, when the cruise ship becomes the third in Celebrity Cruises' Millennium Class quartet to complete a significant "Solsticizing," the term the line coined for its initiative to complement its Millennium Class ships' style and design with some of the most popular attributes found on its widely heralded Solstice Class ships. Among the multiple highlights: the coveted AquaClass, Celebrity's soothing, spa-inspired veranda-category accommodations, paired with the chic, Mediterranean-themed specialty restaurant, "Blu," offered exclusively for AquaClass guests; the virtually indescribable "Qsine" specialty restaurant, and the hip "Celebrity iLounge."
"Based on the phenomenal response we've had from guests who have sailed on the 'Solsticized' Celebrity Constellation , we're eager to introduce the same new features – ranging from the 'Cellarmasters' wine bar to our signature 'icy' Martini Bar to our cool Cafe al Bacio and Gelateria – and even more on Celebrity Summit," said Celebrity's President & CEO Dan Hanrahan. "We recognize that consumers' vacation time is precious, which inspires us to do everything we can to make their vacation with Celebrity Cruises something that is truly different and better than anything they've experienced before."
A Celebrity exclusive – "Qsine," the novel restaurant introduced on Celebrity Eclipse last year, and set to debut on Celebrity Infinity following the ship's revitalization in December 2011 – will be presented on Celebrity Summit, too. The first restaurant at sea to present a menu and wine list on an iPad™, Qsine has been described in press reviews as "the latest and most innovative restaurant," "cutting-edge," "appealingly quirky," "menu-tainment," "entertainment and dining rolled into one," "like a rollercoaster with a tablecloth" and simply, "defying description." Qsine features playful, delectable options including a vertical selection of savory tapas and mezze served individually in custom-made frames, a trio of chilled soups delivered shot-style, and spring rolls served in springs. All are described in detail on the iPad-housed menu and wine list, which offers a full scan of wine labels, an interactive cocktail menu, and the ability for guests to enter tasting notes and e-mail their favorite wine selections.
Joining AquaClass, Blu and Qsine in the "Solsticizing" of Celebrity Summit will be:
• the hip Celebrity iLounge, which debuted on Celebrity Eclipse and made Celebrity Cruises the industry's first Authorized Apple Reseller, and where guests can participate in Celebrity's "iLearn" enrichment series 
• a "cool" new ice-topped Martini Bar and Crush 
• the vibrant creperie, Bistro on Five 
• the inviting Cafe al Bacio and Gelateria 
• Cellarmasters wine bar, complete with the "Enomatic" state-of-the-art wine serving system – an industry-first when it debuted on Celebrity Solstice – allowing guests to select wines by the glass, at the touch of a button 
• entirely new verandas added to the ship's spacious, luxurious Celebrity Suites 
• even more sumptuous suites, courtesy of all new furniture, flat-screen TVs, upholstery, bedding and carpeting – and, as offered with every suite with Celebrity Cruises, 24/7 butler service 
• restyled staterooms, with entirely new carpeting, flat-screen TVs, upholstery and bedding 
• new color schemes, carpeting and upholstery reflective of the Solstice Class' stylish, modern design in every public venue 
• additional new oceanview and inside staterooms 
• an expanded collection of original, contemporary art
As previously announced, sister ship Celebrity Infinity will emerge from a scheduled drydock period December 3, 2011, with all the Solstice-inspired enhancements planned for Celebrity Summit.