P&O Cruises Introduces New Loyalty Scheme.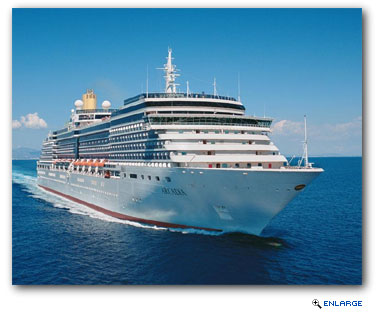 P&O Cruises managing director, Carol Marlow said: "Since its creation The Portunus Club has seen both the numbers of members within the scheme, and the average number of points held per member, increase significantly. The review of the existing scheme and introduction of the P&O Cruises Peninsular Club has been shaped by our customers' experiences and their comments which demanded a more exclusive club, so we have kept the popular elements from The Portunus Club, and added new ideas, many of which came from our passengers."
The previous scheme had three 'tiers' ruby, sapphire and gold categories, the new Peninsular Club will have six distinct tiers, Atlantic, Pacific, Mediterranean, Caribbean, Baltic and Ligurian.
The new club and tier names endorse the brand's heritage and its world-wide footprint. The Peninsular Steam Navigation Company was founded in 1837 from which P&O Cruises can trace its roots. The tier names come from oceans and seas of the world - all sailed countless times by P&O Cruises ships. These are arranged in order of size with the smallest in the club being Ligurian. This tier is reserved exclusively for P&O Cruises most loyal and frequent cruisers.
The wide range of benefits of the club include an on board discount ranging from 5 -10%, a complimentary celebratory drink as the ship sets sail, a pressing service and discounted laundry as well as early embarkation, an exclusive travel insurance offer, early booking offers and early cabin access.
During the next year, passengers will continue to earn ten points for every night spent on board any of the P&O Cruises ships and these will contribute towards their tier status in April 2012 when the total points will be transferred over to the new P&O Cruises Peninsular Club.
In the new scheme, the Baltic and Ligurian tiers will be exclusive to the most loyal passengers who have a total points value of more than 2500. Entry to these tiers is not only reliant on points but also on a requirement for the passenger to have spent over 80 nights on board any P&O Cruises ship within the three years prior to the start of their cruise.
Carol continued "The top two tiers offer benefits only open to an exclusive group of our most loyal and regular passengers, and membership will only be granted on a cruise by cruise basis. This is a new loyalty club for a new era of cruising."