Princess Alters Itineraries Due to Egypt Unrest.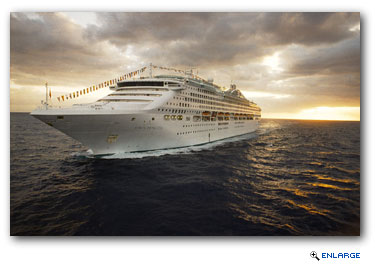 Due to the current political unrest in Egypt, the US State Department has issued a travel warning which recommends that US Citizens avoid travel to Egypt at this time. Based on this information, and the ongoing unrest, Princess Cruises announced that it has decided to alter the itineraries for 18 cruises departing May through November 2011.
In an announcement, Princess said that it they "understand this may come as a disappointment to passengers booked on these voyages, and we hope they understand the decision was made because the safety and security of our passengers and crew is always our foremost priority."
Princess said that they will continue to evaluate the situation, and if it improves and/or the US State Department lifts the travel warning, they will return to our original published itineraries.
The affected cruises are:
Star Princess 
Voyages 9112 and 9125
Departs Rome May 18 and October 21
Due to the current political unrest taking place in the major cities of Egypt, it has been decided to alter the affected itineraries and cancel the call to Alexandria, Egypt. Instead, calls to Livorno (for Florence), Malta and an overnight in Istanbul will be added.
Dawn Princess
Voyage D111
Departs Sydney May 25
Princess said that it will cancel the call to Port Said, Egypt. The call to Port Said has been replaced with an overnight call to Istanbul 1-2 July. To accommodate this change, the call to Ashdod will now be on June 28 instead of June 29 and the call to Mykonos will now be on Jun 30 instead of July 1.
Ocean Princess
Voyage 7110
Departs Singapore on April 29
The call to Safaga, 20 May, has been cancelled and replaced with a call to Aqaba, Jordan (for Petra) 0700-1900, on the same day.
Voyage 7124
Departs Rome October 15
The calls to Sharm El Sheik, 22 Oct, and Safaga, 24 Oct, have been cancelled and replaced by an overnight call to Dubai, 30-31 October. The remainder of the voyage is unaffected.
Pacific Princess
Voyages K104, K110, K113, K117
Departs Rome May 7, July 18, August 23 and October 10 
A call to Istanbul has been added on Day 9.
Voyages K105, K116 
Departs Athens May 19 and September 28 
A call to Istanbul has been added on Day 7.
Voyages K107, K115, K119 
Departs Venice June 12, September 16 and November 3 
A call to Istanbul has been added on Day 10.
Voyages K108, K111, K118 
Departs Athens June 24, July 30, October 22 
A call to Istanbul has been added on Day 7.
Voyages K120
Departs Athens November 15 
A call to Istanbul has been added on Day 7.