Three P&O Cruise Ships Set to Call on New Orleans.
The Port of New Orleans will welcome the first of three port calls within the next month by U.K.-based P&O Cruises. The cruise line is owned by Carnival Corp.
On Dec. 23, P&O's newest and largest cruise ship -- the 951-foot, 3,100-passenger Azura -- docked at the port's Erato Street Cruise Terminal. Azura, which was christened in April, departed Dec. 24.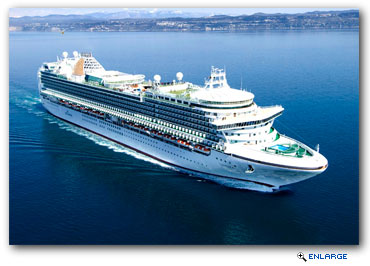 On Dec. 30, P&O's Ventura arrives at Erato. The 947-foot vessel will conduct a turnaround in New Orleans, allowing about 1,000 of its passengers to disembark and another 1,000 to board. All 2,000 passengers will fly into and out of Louis Armstrong International Apirport on chartered flights from London. The Ventura is scheduled to sail from New Orleans on Jan. 1.
On Jan. 26, P&O's 853-foot Oriana will also call on the port with 1,900 passengers aboard for a two-day visit.
"These unique port calls by cruise ships are an important part of the cruise and tourism industry for the port and for the city," said Gary LaGrange, president and CEO of the Port of New Orleans. "Passengers spend their time and money touring south Louisiana and experiencing all of the unique cultural, culinary and historic destinations we have to offer."
Passengers on each ship are expected to spend about $150,000 on shore tours, dining and entertainment while in port. The total economic impact, including vessel supplies and support and crew spending is about $2.5 million over a six-day period.
"Cruising is an important part of Louisiana's tourism economy," said Lt. Gov. Jay Dardenne. "In addition to the economic impact of passengers, it gives visitors a taste of our great state which all but guarantees another trip to Louisiana in their future."
The cruise industry is vital to Louisiana's economy, supporting more than 2,800 jobs and contributing $226 million annually to the regional economy. Additionally, cruise passengers account for about 180,000 room nights in area hotels.
Those figures are likely to increase in the coming year, as Norwegian Cruise Line began year-round seven-day cruises by its Norwegian Spirit in November and Carnival Cruise Lines will replace its current year-round ship -- the Carnival Triumph -- with the Carnival Conquest and Carnival Ecstasy in the fall. In addition, Royal Caribbean International will return in fall 2011 with its 1,020-foot Voyager of the Seas, which will be the largest cruise ship to ever call on New Orleans.
The Port of New Orleans handled about 500,000 cruise passengers in 2010, but expects to top the 1 million passenger mark in 2012.